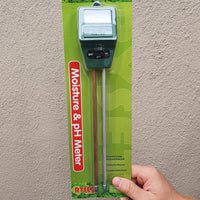 2 in 1 PH & Moisture Meter
Description
This handy 2 in 1 moisture and pH meter features dual probes to efficiently measure soil moisture content and pH in one easy step. The long probes allow for the meter to be inserted into the soil up to 20cm deep giving a reading at plant root level. Great for ensuring healthy plant growth and preventing over and under watering. No battery required. Measures soil moisture and pH levels between 3-8.

*Wipe probes clean after use.

*2 in 1 Soil pH and Moisture Meter is less accurate than chemical pH testing kit.

Measurements: 29cm long x 5cm wide.
Gift Wrapping
You can optionally add more value to your gift purchase with this Gift Wrapping service.
Other Information
Please see our Delivery Policy and Return & Refund Policy.
Still have questions? Please reach out to our team at 0415 943 707 (or support@foliahouse.com.au) and we're more than happy to assist.