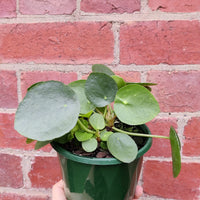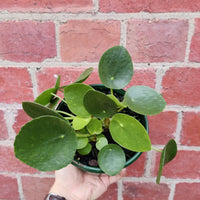 Pilea Peperomiodes (The Chinese Money Plant) - 13cm Pot
Description
Product size
Pot diameter - 13cm

Plant care
This Pilea is a remarkable indoor plant, being able to survive well in low light. Relatively fast-growing but will take some time to grow upright stems that can be staked to any height. Round, coin-like leaves are produced almost weekly to create a stunning effect. Young plants will grow from the base of parent plants as they mature.

POSITION
Very hardy and will do well in all climates. Plants do well outdoors under the shade and will do well indoors even in low light, but leaves will be smaller and on long stems.

WATERING
Plants should be watered regularly throughout the year including winter. Plants will survive without water for short periods and will droop but recover.

FEEDING
This Pilea enjoys regular feeding at any time of the year, however, it can also live years without food, but will barely grow.

REPOTTING
Pilea is best repotted each spring into new soil for vigorous growth. Older plants can remain in the same pot for many years.
Gift Wrapping
You can optionally add more value to your gift purchase with this Gift Wrapping service.
Other Information
Please see our Delivery Policy and Return & Refund Policy.
Still have questions? Please reach out to our team at 0415 943 707 (or support@foliahouse.com.au) and we're more than happy to assist.