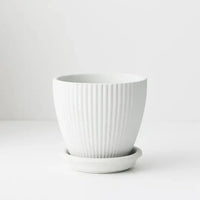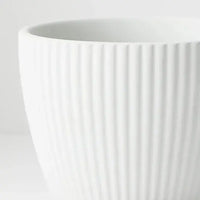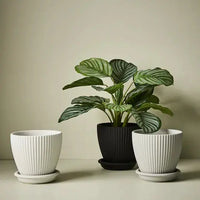 Pot Johanna w/saucer - White- 14.5cmD
Description
Product Type: Pot Planter
Material: Ceramic
Colour: White
Dimensions: L14.5xW14.5xH14cm. Cavity size: 14cm
Australian Designed: yes

Our ceramic pot johanna featuring a satin matte coating in cocoa with a soft velvet feel is the perfect vessel to style your plants in any space. Select from our extensive range of greenery and plants to compliment. This ceramic pot with saucer is handmade, due to the nature of handmade items there may be slight variations in the size, surface texture, coating consistency, colour or tone of the pots. This pot comes complete with saucer and has a drainage hole.
Gift Wrapping
You can optionally add more value to your gift purchase with this Gift Wrapping service.
Other Information
Please see our Delivery Policy and Return & Refund Policy.
Still have questions? Please reach out to our team at 0415 943 707 (or support@foliahouse.com.au) and we're more than happy to assist.