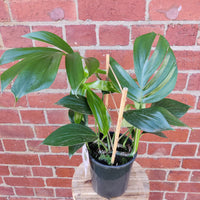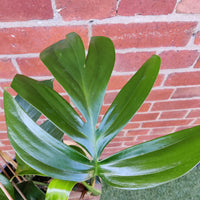 Philodendron Dragon Tail (Epipremnum pinnatum) - 17cm Pot
Description
Plant care
The Epipremnum pinnatum is a species of flowering plant in the family of Araceae and is native to French Polynesia. This plant is commonly called Dragon Tail. The Dragon Tail is an evergreen vine that can grow over 1mtr tall. The Dragon Tail can climb by means of aerial roots which adhere to surfaces. Young leaves are elliptical to arrow-shaped with entire margins. Mature leaves up to 30-50cm long are thick and leathery and are deeply incised along the margins and can resemble a Monstera leaf.

Position
The Dragon Tail grows well in bright, indirect sunlight but will also tolerate low light conditions.

Water
Dragon Tails are drought tolerant and don't require a lot of water. Allow the top layer of soil to dry between waterings. Because of its hardiness and low maintenance, this makes it a popular choice for beginner gardeners. Wait until the top 2-3cm centimetres of soil in the pot has dried out before watering heavily. Water less in in the cooler month to replicate the tropical dry season.

Temperature
As we are mostly from the tropics we like warmth and humidity. That said though we are a fairly adaptable group of plants and can generally handle cooler temperatures, not frost though

Fertiliser
A good pinch of slow release indoor plant fertilizer in spring is generally all we need. A bit of bone meal may be necessary every now and again as we crave (use lots of) calcium and magnesium – pale new leaves is a good sign that we need more of these micronutrient.


Gift Wrapping
You can optionally add more value to your gift purchase with this Gift Wrapping service.
Other Information
Please see our Delivery Policy and Return & Refund Policy.
Still have questions? Please reach out to our team at 0415 943 707 (or support@foliahouse.com.au) and we're more than happy to assist.