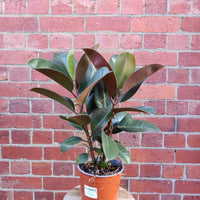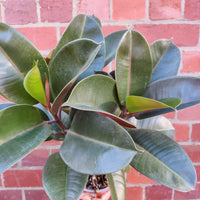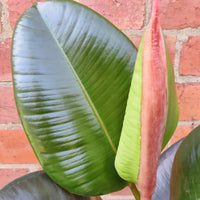 Robusta Rubber Plant (Ficus Elastica Robusta) - 17cm Pot
Description
Product size
Pot diameter: 17cm. 

Plant care
POSITION
Ficus elastica Robusta prefers bright, indirect light but does cope quite well in lower light conditions.

WATERING
Water when the soil starts to become slightly dry at the top. Keep the soil moist at all times, but do not over water as this will cause leaf drop.

TEMPERATURE
Ideal temperatures are 16-24°C. Avoid cold draughts.

HUMIDITY
No specific requirements, although the occasional misting wouldn't go amiss.

FERTILISER
Apply a weak dose of a fertiliser once or twice a month during the growing season.

PET FRIENDLINESS
Considered poisonous, therefore keep away from children and animals.

AIR PURIFYING
This plant filters airborne toxins and is part of our clean air plant collection.

Gift Wrapping
You can optionally add more value to your gift purchase with this Gift Wrapping service.
Other Information
Please see our Delivery Policy and Return & Refund Policy.
Still have questions? Please reach out to our team at 0415 943 707 (or support@foliahouse.com.au) and we're more than happy to assist.