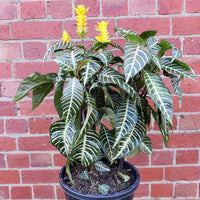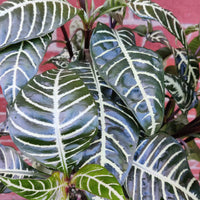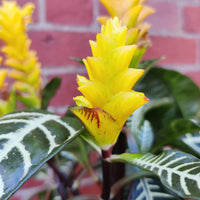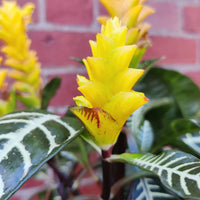 Zebra plant - 25cm Pot (Aphelandra Squarrossa)
Description
Product size
Pot diameter: 20cm

Plant care
POSITION
Zebra plants thrive when given bright, indirect light. While it can tolerate a bit of shade, it won't flower as often or as long if it's not given enough light. Be sure to avoid direct sunlight, as it can scorch your plant's leaves. If you're trying to grow your zebra plant outdoors, be sure that it's in a sheltered location. It needs light, but not direct sunlight. Placement under a thick tree canopy or porch should work well. Growing in an greenhouse is an option as well to increase the humidity.

WATERING
Sensitive to over and under watering, zebra plants can be a smidge tricky to maintain. Keep the soil consistently moist throughout the active growing season, and stay watchful. In the winter months, you can allow the soil to dry out a bit between waterings. The ideal for those cooler months is a barely-moist environment. For best results, use filtered water that's just over room temperature. This mimics the temperature of a typical rain.

TEMPERATURE
The perfect temperature for growing your zebra plant is between 65-80 degrees. Happily, this coincides with most people's preferred indoor temperature range. Never allow your zebra plant to spend long in temperatures below 55 degrees. It can cause damage to the plant's beautiful foliage.

HUMIDITY
Zebra plants like slightly higher humidity than many other plants of 60% - 70%. You may need to raise the humidity levels in a room artificially by placing the plant in a humidity tray with pebbles or use a humidifier appliance. Low humidity levels within an artificially heated room during winter is not going make a Zebra plant very happy.

PET-FRIENDLINESS
Non-toxic to cats and dogs.

Gift Wrapping
You can optionally add more value to your gift purchase with this Gift Wrapping service.
Other Information
Please see our Delivery Policy and Return & Refund Policy.
Still have questions? Please reach out to our team at 0415 943 707 (or support@foliahouse.com.au) and we're more than happy to assist.