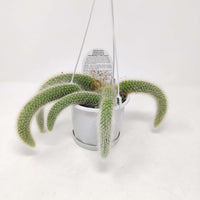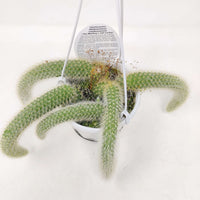 Monkey tail cactus - 13cmHB
Description
Product size
Pot diameter - 13cm hanging basket

Care instruction
Position
Indoors grow in a bright light position in a cactus/succulent potting mix. In pots they also grow well in full sun to part shade in cool to sub tropical zones. Hanging baskets are also a great option. Outdoors, in areas that are frost free it can be grown as a ground cover in a full sun to semi shade position in sharply drained soil.

Water
Water when the soil has totally dries out. The warmer the air the more frequently you'll need to water. When it is cloudy and cold, it will take the soil longer to dry out. Keep the soil even drier during late fall and winter when a Monkey Cactus needs to "rest" for a few months in a cool area. This dormant period is necessary for it to bloom well.

Temperature
It's hard to believe, but a Monkey Tail Cactus can survive temperatures below freezing.

Humidity
They do not need high humidity so it is good that you have removed the plastic. Provide good air circulation and warm temperatures. Avoid excessive heat above 80 degrees F.

Pet Friendliness
Unlike many types of cactus, Monkey's Tail Cactus is not edible. Its flesh is toxic.
Gift Wrapping
You can optionally add more value to your gift purchase with this Gift Wrapping service.
Other Information
Please see our Delivery Policy and Return & Refund Policy.
Still have questions? Please reach out to our team at 0415 943 707 (or support@foliahouse.com.au) and we're more than happy to assist.