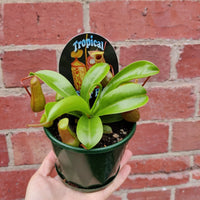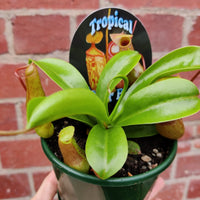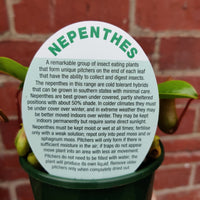 Description
Product size
Pot diameter – 10cm

Plant care
Position
Well-lit positions indoors (require some direct sunlight) or under cover outdoors. Prefer warm, humid positions. Avoid cold positions, also keep the plant away from direct airflows from heaters and air-cons.

Watering
Must be kept moist and wet at all times. Can sit in a saucer of water.

Feeding
Fertilize only with a weak solution during warmer months.

Repotting
Repot when the plant outgrows the pot. Repot into peat moss and/or sphagnum moss. Remove older pitchers only when completely dried out.

Pet-friendliness
Non-toxic to dogs, cats and other domestic pets. Not so friendly with insects.
Gift Wrapping
You can optionally add more value to your gift purchase with this Gift Wrapping service.
Other Information
Please see our Delivery Policy and Return & Refund Policy.
Still have questions? Please reach out to our team at 0415 943 707 (or support@foliahouse.com.au) and we're more than happy to assist.