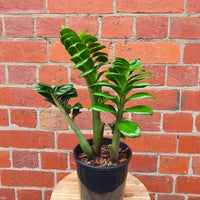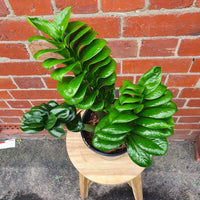 Zanzibar Zenzii - 15cm Pot
Description
Product size

Pot diameter: 15cm


Plant care
This amazing plant is one of the world's best indoor plants being able to survive long periods of neglect and low light. The unusual sculptural shape also makes the plant popular in shops and offices. Zanzibar gem is very slow growing and may only produce a single leaf or two every few months.

POSITION
They will not survive outdoors in colder climates, indoors in any well-lit area, avoid extreme cold areas during winter or keep plant almost completely dry.

WATERING
Plants must be allowed to dry well between watering's water well but allow the pot to completely drain. Safe to not water during colder months.

FEEDING
Slow release foods or liquids during the warmer months.

REPOTTING
Can be left to overgrow their pots or repotted at in the warmer months in almost any well-drained potting mix, plants have large potato-like growths underground, these should not be damaged.

WARNING
All parts of this plant are dangerous if eaten, wash hands after repotting or removing dead or damaged foliage.


Gift Wrapping
You can optionally add more value to your gift purchase with this Gift Wrapping service.
Other Information
Please see our Delivery Policy and Return & Refund Policy.
Still have questions? Please reach out to our team at 0415 943 707 (or support@foliahouse.com.au) and we're more than happy to assist.