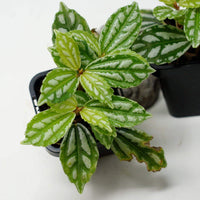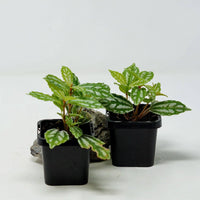 Baby Plant - Aluminium (Pilea Cadierei)
Description
Product Size
Pot diameter - 7cm

Position 

This plant requires at least four hours of indirect, but bright, sunlight a day. Do not permit this plant to be exposed to overly bright or direct sunlight. Too much sun will burn the leaves and cause the green parts to turn brown.
Water
The Aluminum plant needs to be watered differently during different times of the year. During spring and summer, the top quarter inch of the soil should be kept moist. During fall and winter, allow the top quarter inch of soil to dry out before watering again. Do not permit water to stand in the saucer underneath the plant.
Temperature

Pilea cadierei requires a year-round temperature between 60-75 ºF (15-23 ºC). It can tolerate short periods of time outside of this temperature range, but continued exposure will killPaHumidity

Normal air humidity will please this plant. If your home is overly dry during the winter, mist the leaves every other day with plain water.
Fertiliser
Fertilize the aluminum plant once a month during the growing season. Use a balanced, water-soluble fertilizer, such as 7-7-7 or 20-20-20. To prepare a fertilizing solution, mix 1 tablespoon of fertilizer with 1 gallon of water. Stop fertilizing during winter.
Pet Friendliness
Toxic for cats and dogs.
Shipping
Melbourne metro areas, postcode range 3000 - 3207 (exclude 3063, 3099, 3139).
Gift Wrapping
You can optionally add more value to your gift purchase with this Gift Wrapping service.
Other Information
Please see our Delivery Policy and Return & Refund Policy.
Still have questions? Please reach out to our team at 0415 943 707 (or support@foliahouse.com.au) and we're more than happy to assist.