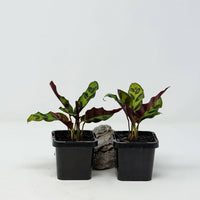 Baby Plant - Rattlesnake Calathea (Lancifolia Insignis)
Description
Product Size
Pot diameter - 7cm

Plant care
Position
A good bright spot within a room or conservatory without direct sunlight is advised. Too much direct sun will cause issues.

Water
During the growing season ( May - Aug) water frequently. Always keep the soil moist (not waterlogged). During the winter cut this down and only water when the top soil has become dry to the touch.

Temperature
Room temperatures that average 65-75ºF (18-24ºC) and no lower than 60ºF (15ºC). Avoid drafts and sudden temperature changes.

Humidity
Since the plant loves moist areas, you can leave a tray under your pot with pebbles to hold moisture from the water that escapes from the hole on the bottom of the pot so the plant remains moist. You can also use a humidifier for this task.

Fertiliser
You can feed the plant monthly during the growing season as part of your rattlesnake plant care regimen using a diluted solution of a balanced, water-soluble fertilizer. Be sure the soil is moist before fertilizing.

Pet Friendliness
Non-toxic to cats and dogs.
Gift Wrapping
You can optionally add more value to your gift purchase with this Gift Wrapping service.
Other Information
Please see our Delivery Policy and Return & Refund Policy.
Still have questions? Please reach out to our team at 0415 943 707 (or support@foliahouse.com.au) and we're more than happy to assist.