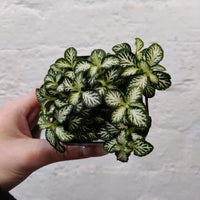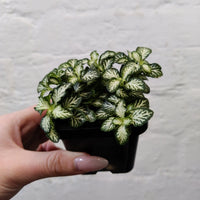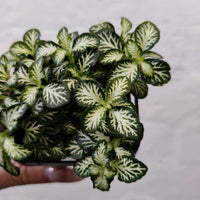 Baby Plant - Fittonia White Tabby
Description
Product Size
Pot diameter - 7cm
Plant care
Position
The Nerve Plant does not like it when placed in areas of direct sunlight. Instead, choose a room that receives lots of indirect sunlight. If you're worried about too much sun getting in, you can use a translucent curtain or drape to block out the worst of the light.
Water
Just as with soil requirements, water should be given regularly yet not overdone. These plants require a moderate amount of water with plenty of time for the soil to dry out. It may be difficult at first, but find a balance where the soil is moist and slightly damp
Temperature
The natural habitat of a Fittonia is relatively warm. This may lead you to believe that the Nerve Plant requires a hot climate inside the house. Luckily, you don't have to place this plant in a sauna. They prefer an environment that is between 16 and 26 degrees Celsius. Keep in mind that the Nerve Plant can survive a little heat, but it does not do well when placed in a room that becomes too cold. Keep a watchful eye and make sure that the temperature does not drop below 16 degrees Celsius.
Humidity
This plant is used to the warm tropical climates. It comes as no surprise that they like the humidity levels to be rather high. Misting your plant daily is an easy way to make sure that they stay happy. You can also choose to place the Philodendron on a pebble dray that has been filled with water. The idea is that the water on the tray will evaporate and increase the humidity.
Fertiliser
Some flora do not need the addition of fertilizer, but not the Nerve Plant. The minimum requirement for these individuals is to add fertilizer once a week, or once every other week if you're unsure. An important note is that the roots can become burned if you use too strong a solution. To prevent this from happening, first, dilute the fertilizer.
Pet Friendliness
This rainforest native with lovely white or pink veining on its leaves is non-toxic to cats and dogs.
Shipping
Within 50km from Melbourne CBDWithin 50km from Melbourne CBD
Gift Wrapping
You can optionally add more value to your gift purchase with this Gift Wrapping service.
Other Information
Please see our Delivery Policy and Return & Refund Policy.
Still have questions? Please reach out to our team at 0415 943 707 (or support@foliahouse.com.au) and we're more than happy to assist.