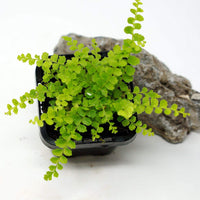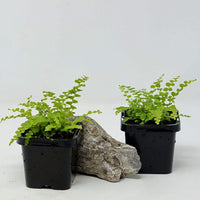 Baby Plant - Lemon Button Fern (Nephrolepis Duffii)
Description
Product Size
Pot diameter - 7cm

Plant care
Position
Nephrolepis prefers a semi-shaded environment without much direct sunlight. Exposing the plant to direct sun for too long will burn the plant and cause the leaves to turn brown.

Water
The plant does require moist and well-drained soil. The best watering scenario for this fern would be to provide water once the top two inches of soil has begun to dry out. Even though Nephrolepsis likes lots of moisture, be sure not to over-water the plant. If the soil becomes, sodden, and completely saturated for long periods of time the fern will die.

Temperature
Nephrolepis thrives best in 65 to 75 degrees Fahrenheit. However, it can survive temperatures as low as 55 degrees Fahrenheit for short periods of time.

Humidity
Like its counterpart, Boston Fern, this plant is usually found in well-drained and moist soil in areas of medium to high humidity. For optimal growth and health, it will be best to place it somewhere high in humidity.

Fertiliser
Liquid fertilise in spring and summer.
Gift Wrapping
You can optionally add more value to your gift purchase with this Gift Wrapping service.
Other Information
Please see our Delivery Policy and Return & Refund Policy.
Still have questions? Please reach out to our team at 0415 943 707 (or support@foliahouse.com.au) and we're more than happy to assist.