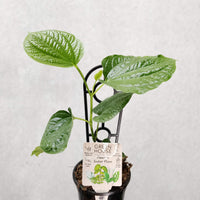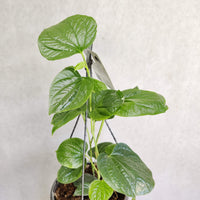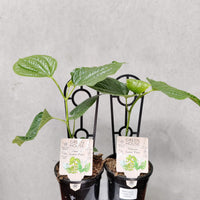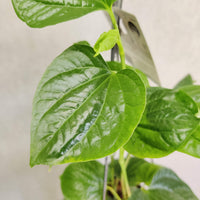 Betel Leaves Plant (Piper Crocatum Celebes Pepper) - Edible - 13cm pot
Description
Plant Exudates - Harmless molds
Sooty molds are not harmful and, in fact, are a natural occurring phenomena found on certain plant varieties. Airborne molds colonize on plant sugars and create black patches often confused with leaf pathogens. Little white beads are excreted on the backsides of the leaves and stems. The white beads have a high sugar content and make room for opportunistic molds to colonize; this turns the white beads to black beads. Let us assure you, the beads that we are talking about are not symptoms of bugs or plant diseases. Believe it or not, the molds are harmless.
Product size Pot diamter - 13cm pot
Plant care

The Piper betle is a species of vining plant in the family of Piperaceae and is native to India. This plant is commonly called The Pepper Leaf Plant or Betle Plant. In some parts of the world the Piper betle leaves are chewed with the betle nut or used in cooking for their spicy flavour. The Piper betle has mid green slightly heart-shapped leaves. The Piper betle grows well in indirect sunlight but will also tolerate low light conditions. The Piper betle prefers moist soil particularly in the warmer months, but allow the top layer of soil to dry between waterings. The Piper betle is a vigourous grower so it will make a great groundcover
Shipping
Within 50km from Melbourne CBD
Gift Wrapping
You can optionally add more value to your gift purchase with this Gift Wrapping service.
Other Information
Please see our Delivery Policy and Return & Refund Policy.
Still have questions? Please reach out to our team at 0415 943 707 (or support@foliahouse.com.au) and we're more than happy to assist.