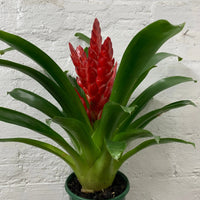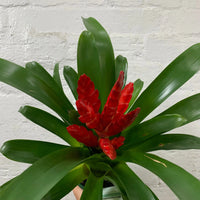 Description
Product size
Pot diameter – 10cm 
Product care
Bromeliads produce very attractive flower bracts that can last months. After flowering the parent plant will produce a number of new plants that will flower in 1 or 2 years.
Position

While flowering they can be kept indoors, to be able to regrow they must be grown in a well lit position. Outdoors they require sheltered shaded positions.

Temperature

They must be protected from the winter rain and frosts. Keep them indoors in the cold months.

Water

Bromeliads store water in the leaves. Water the center of the plant well and the water will travel to the soil. Excessive water in winter can cause damage.

Nutrients

Weak dose occasionally in warmer months over the leaves and into the soil.

Propagation

Plants can be divided when offsets are nearing adult size.

Pet friendliness

Bromeliads are harmless for dogs and cats.
Gift Wrapping
You can optionally add more value to your gift purchase with this Gift Wrapping service.
Other Information
Please see our Delivery Policy and Return & Refund Policy.
Still have questions? Please reach out to our team at 0415 943 707 (or support@foliahouse.com.au) and we're more than happy to assist.