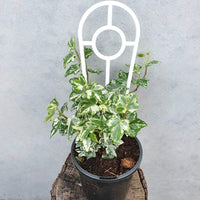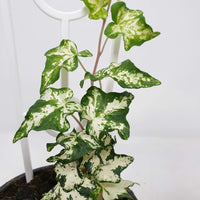 Camouflage Ivy (Hedera helix) - 12cm Pot
Description
Product Size
Pot diameter: 12cm

Plant care
The Hedera helix 'Variegata' is native to Europe and commonly called Pittsburgh Ivy, English Ivy or just Ivy. This evergreen vine or ground cover has small to medium ivy or lobed shaped variegated leaves with a heart-shaped base. It attaches itself by aerial rootlets to walls and other surfaces such as rockeries or trees. The Pittsburgh Ivy is easy to grow, hardy and versatile.

POSITION
It can tolerate full sun to shade, partial shade is best for hotter climates.

WATERING
The Pittsburgh Ivy likes moderate water, allowing the topsoil to start to dry between waterings. Because of the Pittsburgh Ivy's climbing and vining habits, they look great in a hanging basket, greenwall or trailing down a feature wall.
Gift Wrapping
You can optionally add more value to your gift purchase with this Gift Wrapping service.
Other Information
Please see our Delivery Policy and Return & Refund Policy.
Still have questions? Please reach out to our team at 0415 943 707 (or support@foliahouse.com.au) and we're more than happy to assist.