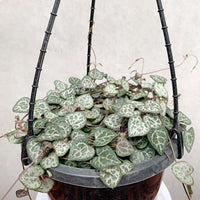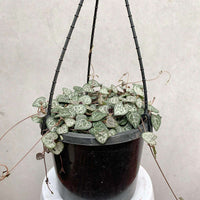 Chain of Hearts (Ceropegia Woodii) - 13cmHB
Description
Product size
Pot diameter: 13cm

Plant care
One of the hardiest of all basket succulents, Hearts can be grown almost anywhere indoors or outdoors, sunny or dark. Long tendrils can grow 1m or more in a season and fill a pot very fast. Heart-shaped leaves appear along the entire length and cute 3cm vase-shaped, flowers can appear in summer from every leaf.

Position
They can grow indoors in low light situations, ideally, they prefer shade between 505 - 80%. Plants will not flower without some sunlight.

Water
Allow to dry out in between waterings over the warmer months, and keep almost dry over winter.

Temperature
Can cope with very warm temperatures but prefers temps over 10C.

Nutrients
Feed during warmer months to encourage growth.

Humidity
Doesn't need humidity, a good option for airconditioned and heated areas.

Propagation
Ceropegia woodii is propagated by cuttings, by small tubers that are produced at the base of the leaves, and by seed.

Pet Friendliness
Although it was pretty difficult to find information about the toxicity of this plant, most sources seem to indicate it should be harmless. Do keep in mind that those long, stringy stems are probably irresistible to cats! Hang/place your Ceropegia woodii far out of their reach to prevent trouble.


Gift Wrapping
You can optionally add more value to your gift purchase with this Gift Wrapping service.
Other Information
Please see our Delivery Policy and Return & Refund Policy.
Still have questions? Please reach out to our team at 0415 943 707 (or support@foliahouse.com.au) and we're more than happy to assist.