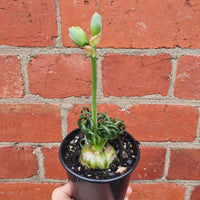 Frizzle Sizzle (Albuca spiralis)- 7cm pot
Description
Product size
Pot diamaters - 7cm, Total height 15cm
Plant care
This amazing cultivar produces thick leaves with corkscrews at the end of each leaf. Frizzle Sizzle grows from a bulb planted just below the surface, bulbs are fully grown at 8cm across. Leaves appear in early Autumn through till the next spring when they should be allowed to dry out to begin a summer dormancy. Tall upright flower spikes appear in late Autumn and produce large green flowers for 2 to 3 months.

Plant Care
POSITION
Strong sunlight is needed to produce tight compact and curly foliage. It will do better outdoors and will survive in gardens in low frost zones.
TEMPERATURE
Corkscrew Albuca grows and flowers during winter and is mostly dormant from late summer. So in winter, place in a dry spot with lots of light. The foliage may hang on through summer, but might look a bit dishevelled. If you are growing it as a house plant, ideally pop it outside in winter every so often so it can get the cool temperatures required to induce flowering.
WATER
Water well throughout the cooler months, plants should be allowed to dry out from early summer to the end of summer with only occasional watering, this will allow the leaves to die off and the plant to rest till the next Autumn.
PROPAGATION
Frizzle Sizzle is a protected plant so its propagation for commercial reasons is prohibited and protected under Plant Variety Rights (PVR).
PET FRIENDLINESS
This interesting-looking succulent is great to behold but can be poisonous not just to Sparkles but possibly to you, too. If any parts of the stem are broken or ingested, kids and kitties alike might not feel great. So just maybe bring this one to work (but try not to eat it).
Gift Wrapping
You can optionally add more value to your gift purchase with this Gift Wrapping service.
Other Information
Please see our Delivery Policy and Return & Refund Policy.
Still have questions? Please reach out to our team at 0415 943 707 (or support@foliahouse.com.au) and we're more than happy to assist.