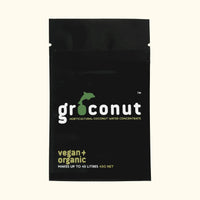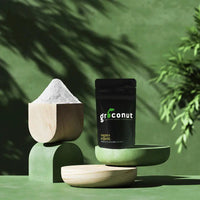 Groconut Propagation Powder - The Plant Runner
Description
Unit size: 45g
THE DETAILS
Groconut is an alternative to synthetic rooting stimulants and growth boosters. Use it exclusively for propagation, or alongside your fertilising routine. Studies show that using coconut water to feed plants will make them denser, with larger foliage and stronger root systems, 100% naturally.
✓ Optimise uptake of nutrients
✓ Stimulate cell enlargement and therefore bigger leaves
✓ Encourage lateral buds growth
✓ Improve the soil
✓ Help with nutrient imbalances
✓ Use as a rooting stimulant in propagation
All Coconut Water powders contain free-flow agents due to their hygroscopic nature. Groconut are proud to be providing NZ & Australia with the highest-quality formula with the least amount of free-flow agents – and that's what makes the product work.
Groconut® is an excellent choice for providing juvenile plants with essential nutrients without the risk of burn. Its natural growth-boosting hormones also help to promote growth of roots and foliage at the same time.
THE DIRECTIONS
POTTED PLANTS, FOLIAR SPRAY AND NUTRIENT FLUSHES:
1/4 – 1 tsp Groconut per litre of water* for foliar spray and regular soil flushes. Mix well. Use mixed solution immediately. Use Groconut with every other watering for best results.
PROPAGATION
1 tsp Groconut per litre of water* for use in propagation. Mix well, and leave cutting in solution for 30 minutes to 1 hour. Do not leave the cutting in the solution for longer than the recommended time. Discard solution and put cutting in your choice of growth medium.
HYDRO & LECA
1/4 tsp Groconut per litre of water*. Discard solution and replace with fresh water after 6-12 hours.
TRANSPLANTING
Mix 1 tsp of Groconut per litre of quality new soil medium when repotting to reduce/prevent the effects of transplant shock.
*Distilled or rain water is advised. Tap water may contain chemicals that may alter the biological and chemical integrity. Use only as needed.
Storage: Groconut has a shelf-life of 24 months. Use contents within 12 months of opening. Product is highly hygroscopic - please ensure product is always sealed after use and store in the refrigerator once opened.

Ingredients: Certified organic coconut water, Certified organic tapioca (free-flow agent).
THE NUTRIENTS

PRIMARY MACRONUTRIENTS

Nitrogen
0.2%
Phosphorus
0.1%
Potassium
3.2%
SECONDARY MACRONUTRIENTS
Sulfur
0.1%
Calcium 
0.3%
Magnesium
0.1%
MICRONUTRIENTS
Iron
22 mg/kg / 22ppm
Copper
3 mg/kg / 3 ppm
Manganese
29 mg/kg / 29 ppm
Zinc
4 mg/kg / 4 ppm
Boron
10 mg/kg / 10 ppm
Cobalt
2 mg/kg / 2ppm
Molybdenum
2 mg/kg / 2ppm
Selenium
10 mg/kg / 10ppm
There is also trace amounts of riboflavin (Vit B2), niacin (Vit B3) pantothenic acid, folic acid, biotin, thiamin (Vit B1), and abscisic acid.
Gift Wrapping
You can optionally add more value to your gift purchase with this Gift Wrapping service.
Other Information
Please see our Delivery Policy and Return & Refund Policy.
Still have questions? Please reach out to our team at 0415 943 707 (or support@foliahouse.com.au) and we're more than happy to assist.