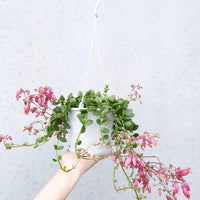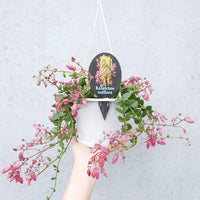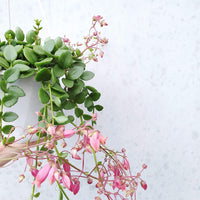 Kalanchoe Uniflora - 13cmHB
Description
Product size
Pot diameter - 13cm hanging basket

Plant Care
Kalanchoes are some of the prettiest bushy succulents around. They belong to the stonecrop (Crassulaceae) family which is the same family as the jade plant or money tree. Kalanchoes are the ultimate winter plant, whether in garden beds or pots.

POSITION
Choose a sunny location, though some shade throughout the day can be tolerated well. Essentially the more light it gets, the more it will bloom. It will tolerate light frosts.

TEMPERATURE
It is difficult for the plant to withstand temperatures lower than 13°C.

WATER
Moderate watering is required during summer and require less watering in winter. Can be watered at any time.

PROPAGATION
Propagate from stem cuttings, leaf cuttings, or seed, or by removing plantlets.

PRUNING
The plant requires little or no pruning. If needed, the pruning can be done just after flowering.
Gift Wrapping
You can optionally add more value to your gift purchase with this Gift Wrapping service.
Other Information
Please see our Delivery Policy and Return & Refund Policy.
Still have questions? Please reach out to our team at 0415 943 707 (or support@foliahouse.com.au) and we're more than happy to assist.