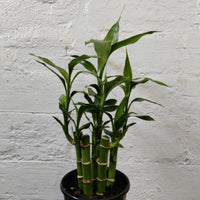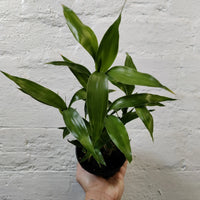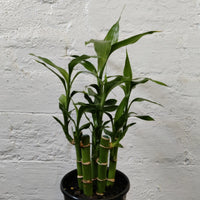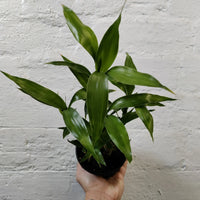 Lucky bamboo - 5 cane - 10cm pot - 15cmH
Description
Plant care

Position
Lucky bamboo prefers bright, filtered sunlight, such as what is found under a rainforest canopy. Avoid direct sunlight as it will scorch the leaves. They are more tolerant of too little light than too much. If the plant begins to stretch, however, or the green fades, provide more light.

Watering
They are very sensitive to chlorine and other chemicals commonly found in tap water. Water your lucky bamboo only with bottled or distilled water, or tap water that has been left out for 24 hours to allow the chlorine to evaporate. In addition to water, lucky bamboo can be grown in a well-drained, rich potting soil. The soil should be kept moist, but not soaking.

Fertiliser
Plants grown in water will only need to be fed every other month or so, using a very weak liquid fertilizer. A single drop of liquid fertilizer is plenty for most lucky bamboo arrangements. Alternatively, specialty lucky bamboo fertilizers are available.

Temperature
As you may expect with bamboo, this plant prefers warmer temperatures of between 65 F and 90 F. Do not place the plants in front of air conditioning or heating vents, or by a drafty window.

Humidity
Raise the humidity level by spraying the plant regularly and make sure you're using the appropriate water.

Pet-friendliness
Lucky bamboo leaves are mildly toxic, so they should not be kept in a place where pets or children are likely to snack on them.

Gift Wrapping
You can optionally add more value to your gift purchase with this Gift Wrapping service.
Other Information
Please see our Delivery Policy and Return & Refund Policy.
Still have questions? Please reach out to our team at 0415 943 707 (or support@foliahouse.com.au) and we're more than happy to assist.