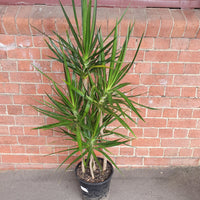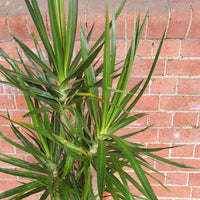 Madagascar Dragon tree (Dracaena Marginata) - 25cm Pot
Description
Product size
Pot diameter - 25cm Total height - 1.3m

Plant care
Dracaena has been approved by the NASA Clean Air Study as a plant air cleaner. The study shows that Dracaena plants remove formaldehyde, benzene, toluene, xylene, and trichloroethylene from the air for healthier breathing.

POSITION
Dracaena houseplants can be maintained in lower lighting with reduced watering and Marginata is one house plant that will tolerate lower light levels. It is prone to root rot if over-watered in lower light. Dracaena houseplant does best in a good light situation. Most Dracaenas do well under artificial lighting. Keep Dracaena Marginata in bright, filtered light if available. Direct afternoon sun is not recommended as it can burn the foliage. Bright light is preferred and some morning sun will help keep your Dracaena looking good.

WATERING
In lower to medium light, water when potting soil has dried down to at least 3/4 of the depth of the pot. In bright light, allow Dracaena Warneckii to dry at least 1/2 of the way down and then water thoroughly. Please see watering indoor plants and information on importance of light for your house plants as these two things will most impact your plants health.

TEMPERATURE
Temperatures for Dracaena should be somewhere between 60 - 80 degrees F. Do not expose to extremely cold temperatures.

FERTILISER
Young Dracaena deremensis plants should be fertilized twice monthly with a balanced (20-20-20) liquid fertilizer. Another option is to reduce the fertilizer to half strength for twice weekly watering or quarter strength for watering every 7-10 days. Increase the fertilization of older plants to once weekly during the spring and summer growth seasons.

PET-FRIENDLINESS
Dracaena species plants contain saponins which may cause drooling, vomiting, weakness, incoordination and dilated pupils (cats) when ingested.

Gift Wrapping
You can optionally add more value to your gift purchase with this Gift Wrapping service.
Other Information
Please see our Delivery Policy and Return & Refund Policy.
Still have questions? Please reach out to our team at 0415 943 707 (or support@foliahouse.com.au) and we're more than happy to assist.