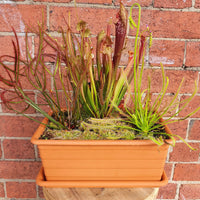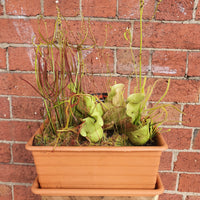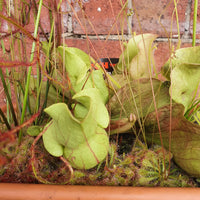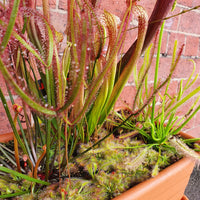 Description

Product size
Pot diamter - L27xW17cm.

Position
A sunny spot is recommended or if you grow the plants inside, a sunny windowsill is ideal.
Watering
Keep soil damp by sitting the pot in a saucer that can be filled with water during warmer months. In winter, move to indoor, lift the pot out of its saucer to allow soil to drain, only water once a week.
Feeding
High-nitrogen soluble fertilizer is recommended.
Repotting
The plants respond well to being repotted once a year, best to do it in early spring.
Pet-friendliness
Not toxic to dogs or cats. However, they are definitely not friendly to small insects.


Gift Wrapping
You can optionally add more value to your gift purchase with this Gift Wrapping service.
Other Information
Please see our Delivery Policy and Return & Refund Policy.
Still have questions? Please reach out to our team at 0415 943 707 (or support@foliahouse.com.au) and we're more than happy to assist.