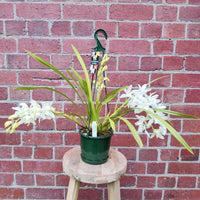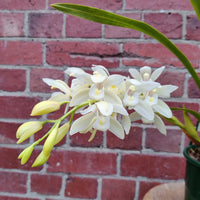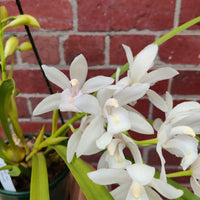 Orchid - Cymbidium White - 4 flower spikes - 18cm Hanging Basket
Description
Product Size
Pot diameter - 18cm Total height - 40-50cm
Plant care
Position

Cymbidiums appreciate a protected position away from strong hot sun, heavy winds and direct frost. The perfect environment should be warm, airy and bright and preferably off the ground. Northern facing verandas and patios are excellent if they are covered.
Water

Cymbidiums require watering all year around. Plants left to dry our for long periods will survive but will not flower well in the next year or two. Watering is as required and is determined by the location. Look at the mix in the pot. If the top is moist watering is not required. If the pot is cold or has moisture on it then it may be okay for another day or two. As a guide use the following.

Summer: Two to 3 times per week. Daily or twice daily in hot weather.
Autumn: Once to twice per week. Slightly more often if warmer.
Winter: Once per week or two if under cover. Possibly not at all if in the rain.
Spring: As for autumn.
Feeding
Cymbidiums as with all plants require regular feeding. Without food a plant mature its bulbs and hence may not produce flowers or new bulbs to flower. For lazy gardeners, slow release plant foods applied in spring will help the plant. We recommend Osmocote plus. For results try the addition of liquid fertiliser at recommended strength a few times in warmer months. For the person who wants the best results use any of the following liquid fertilisers following strength. Aquasol, Johnson's, Thrive, Campbell's or Peter's at grams per litre (1 teaspoon in 5 litres). This is applied with a watering can weekly during the warmer growing season from September to May.
Shipping
Within 50km from Melbourne CBD
Gift Wrapping
You can optionally add more value to your gift purchase with this Gift Wrapping service.
Other Information
Please see our Delivery Policy and Return & Refund Policy.
Still have questions? Please reach out to our team at 0415 943 707 (or support@foliahouse.com.au) and we're more than happy to assist.