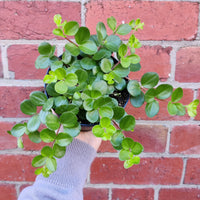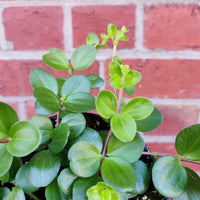 Peperomia Rotundifolia Rondo Venetiano - 12cm Pot
Description
Product size
Pot diameter – 12cm

Plant care
Position
Prefer bright indirect light and morning sun. Avoid cold positions, also keep the plant away from direct airflows from heaters and air-cons. Prefer warm, humid positions, long periods below 12c may cause the plants to rot, dead leaves.

Watering
Leave the soil to almost dry between watering. Water less during colder months.

Feeding
Balanced fertilizers can be used during spring and summer if you want the plant to grow.

Repotting
Repot only when you want the plant to grow (repot in spring or summer only). Otherwise it can be pruned to keep compact.

Pet-friendliness
Non-toxic to dogs, cats and other domestic pets.
Gift Wrapping
You can optionally add more value to your gift purchase with this Gift Wrapping service.
Other Information
Please see our Delivery Policy and Return & Refund Policy.
Still have questions? Please reach out to our team at 0415 943 707 (or support@foliahouse.com.au) and we're more than happy to assist.