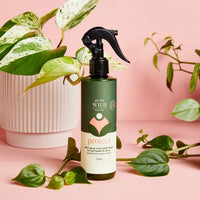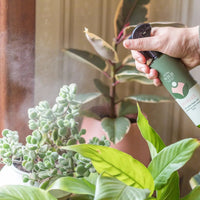 Protect Spray with Neem - 250ml - "We The Wild"
Description
Keep leaves healthy! Our pet-safe formulation combines Neem Oil with a specialist microbial blend to provide broad-spectrum protection & remedy of the environmental stressors that make plants struggle.
Ingredients:

This potent yet gentle formula combines our microbial solution with 100% natural
and organic ingredients. With Botanical Oils, Neem Oil, microbes and more! All products are certified by NASAAOrganic (5544M).

Deep dive into our ingredients here: Lemon Myrtle, Eucalyptus, Chitosan, Neem.

How to use: 

Shake well
Spray on both sides of leaves in the morning or evening
Apply fortnightly or if your plant looks like it needs extra love. Use when plants are hydrated and out of direct sunlight.
Relax and enjoy healthier plant babies! 

Features:

- Safe for pets - independently tested and verified by the Animal Poisons Centre.
- Suits most plants, including hydro and semi hydro.
- NASAA input for Organic Product. Cert. no. 5544M
- Australian made and owned.
- No Odour
Gift Wrapping
You can optionally add more value to your gift purchase with this Gift Wrapping service.
Other Information
Please see our Delivery Policy and Return & Refund Policy.
Still have questions? Please reach out to our team at 0415 943 707 (or support@foliahouse.com.au) and we're more than happy to assist.