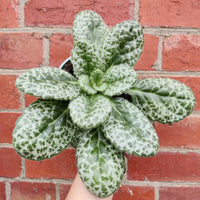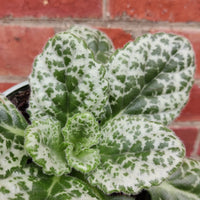 Streptocarpus 'Pretty Turtle' - 13cm pot
Description
Product size
Pot diameter: 13cm pot
Plant care
Position
This plant prefers bright, indirect light. A few hours of the morning sun is perfect. Otherwise, filtered light would work as well.
Water
Keep the soil moist (never soggy) at all times. For extra humidity, sit your pot on a tray of pebbles filled with water. We do not recommend spraying a Streptocarpus Pretty Turtle. They recover very well from dehydration, and this is one of the traits of the species but doesn't do well if overwatered,
Flower
The delicate flowers of Streptocarpus Pretty Turtle are borne on long stems that rise above the foliage. The blooms are trumpet-shaped and come in shades of lavender, with dark purple veins and a yellow throat. The flowers, with teh proper care, are abundant, bringing a splash of colour to any room.
Fertiliser
During spring - while the plant is growing use a diluted liquid fertilizer once every 2 weeks, and once a month during summer. No feeding is required from autumn to spring.
Pet Friendliness
Good news: Streptocarpus 'Pretty Turtle' is a pet-safe plant.
Gift Wrapping
You can optionally add more value to your gift purchase with this Gift Wrapping service.
Other Information
Please see our Delivery Policy and Return & Refund Policy.
Still have questions? Please reach out to our team at 0415 943 707 (or support@foliahouse.com.au) and we're more than happy to assist.