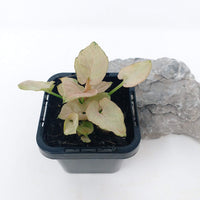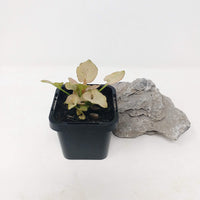 Baby Plant - Syngonium Pink Arrow
Description
Product Description
Pot diameter - 7cm
Position
It doesn't matter how you're displaying your Syngonium or choosing how to grow it when it comes to the light requirements, these plants do best in a position where they receive good light with no direct sunlight.
Water
The soil needs to be evenly moist when you water, waiting for the soil to dry a little before evenly watering again. This means you should avoid the "little and often" approach, just remember to water well and then wait. In Winter the "wait" period will increase as the plant will take longer to dry out so adjust accordingly.
Temperature
This is one houseplant which needs to be at the heart of your home because it demands warmth, even in cold months. An unheated conservatory in Winter for example is a no-no. A minimum of 16°C (61°F).
Humidity
Humidity is a little important for Syngoniums because very dry air will encourage brown leaf crisping which on mass will distract from the beautiful leaves. All the usual ways of increasing humidity can be used to prevent this.
Fertiliser
It's good to try and feed an established growing plant a few times a month. It's fine to feed in Winter too if you want. But only if the plant is actually growing and therefore has need of the fertiliser. If in any doubt don't bother.
Pet Friendliness

Be advised that every part of the Syngonium plant is toxic or poisonous. If you have house pets, take care to keep the plant out of reach. The plant tends to drop leaves, so be vigilant about keeping shed leaves picked up.
Shipping
Melbourne metro areas, postcode range 3000 - 3207 (exclude 3063, 3099, 3139).
Gift Wrapping
You can optionally add more value to your gift purchase with this Gift Wrapping service.
Other Information
Please see our Delivery Policy and Return & Refund Policy.
Still have questions? Please reach out to our team at 0415 943 707 (or support@foliahouse.com.au) and we're more than happy to assist.